Current solar incentives in NC can make clean, green solar energy more affordable for any property owner. Tax credits, manufacturer rebates, and other such programs can mean saving thousands of dollars on your solar array! Consequently, it's vital that property owners investigate these incentives before scheduling solar installation.
However, most North Carolina solar incentives come with strict deadlines! In turn, you don't want to delay your solar installation. A solar installer is the best information source when it comes to programs for which you might be eligible. In the meantime, check out some general information about solar financial incentives and programs.
State property tax exemption
Investing in solar panels typically increases your property's value overall. Consequently, your property taxes might also increase! However, North Carolina waives any increase in your property taxes that result from the solar installation.
For instance, suppose your solar installation increases your home's value from $200,000 to $208,000. Nevertheless, you would only pay property taxes on that original $200,000 value. Your accountant can explain this incentive in greater detail.
Net metering
Net metering allows you to sell unused solar power back to your local utility company. You get a credit on your monthly bill for that power, lowering or even eliminating your electric costs. In addition to reducing your energy costs, net metering means that you're still connected to your local electric company. In turn, you have power even during wintertime, at night, on cloudy days, and whenever your solar panels aren't working optimally.
Revolving loans
Government legislation allows counties and cities to offer low-cost solar installation loans. These loans have an interest rate cap at 8% and a term of no longer than 20 years. They're also easily renewable, making them an excellent choice for property owners needing financing.
Solar panel rebates through Duke Energy
Duke Energy offers a $0.40/Watt rebate for solar panel systems, up to 10 kilowatts (kW). Consequently, a homeowner with a standard 8-kW system might receive up to $3200 in rebates. Nonresidential customers can apply for a rebate of $0.30/Watt, up to $30,000. Additionally, nonprofit customers might receive a rebate of $0.75/Watt, up to $75,000.
Reportedly, Duke Energy suspended this program after the first half of 2022, after running out of funds. However, property owners can ask to join a waitlist for future rebates. Your solar panel installer or Duke Energy representative can check on its availability for your property.
Federal solar incentives for NC residents
The federal government offers incentives in the form of tax credits for solar installation. A tax credit reduces your tax bill for the year, so these credits are part of your tax return. Currently, the federal government provides a 26% tax credit for solar installed between 2020 and 2022.
Also, taxpayers can claim a 22% credit for solar panel systems installed in 2023. Unless Congress extends this program, it will expire starting in 2024.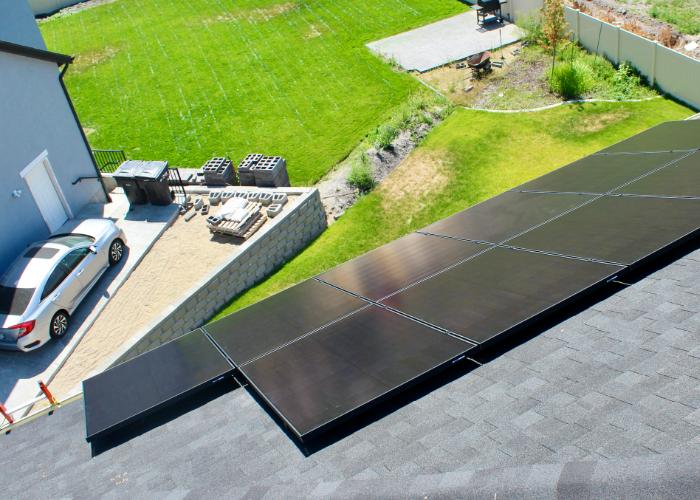 Is North Carolina good for solar?
Solar is an excellent choice for North Carolina property owners. A solar panel investment reduces fumes and emissions created by power plants, for a cleaner planet overall. However, note some additional reasons why state residents should consider solar for their property:
Net metering programs allow you to sell unused solar power back to your local utility company. This program means lowering and potentially even eliminating your monthly power bills! In truth, state residents can expect a 67% to 90% electricity bill offset with a solar panel installation.
Other financial incentives including rebates and property tax exemptions mentioned above also reduce your solar installation costs. These incentives add to your savings over the year, also making solar an excellent investment for property owners.
A solar panel installation typically increases property values, as said. However, the state's property tax exemption means earning equity on that increased value without a corresponding tax increase!
North Carolina averages over 200 sunny days per year! The more sun exposure, the more solar power produced by your panels. Consequently, you're sure to enjoy maximum benefits from your solar installation.
Go Solar Energy NC is happy to bring this information about solar incentives in North Carolina to our readers. Hopefully, you found it informative and can share it with others! If you're ready for clean, green energy on your property, call our North Carolina solar panel installation contractors. We start every project with a FREE consultation and can explain all your solar options. Additionally, we guarantee our installations for both equipment and labor. For more information or to get your property started, give us a call today.